Portable, hospital-grade air purification system. Independently tested destroying 99.97% of airborne viruses.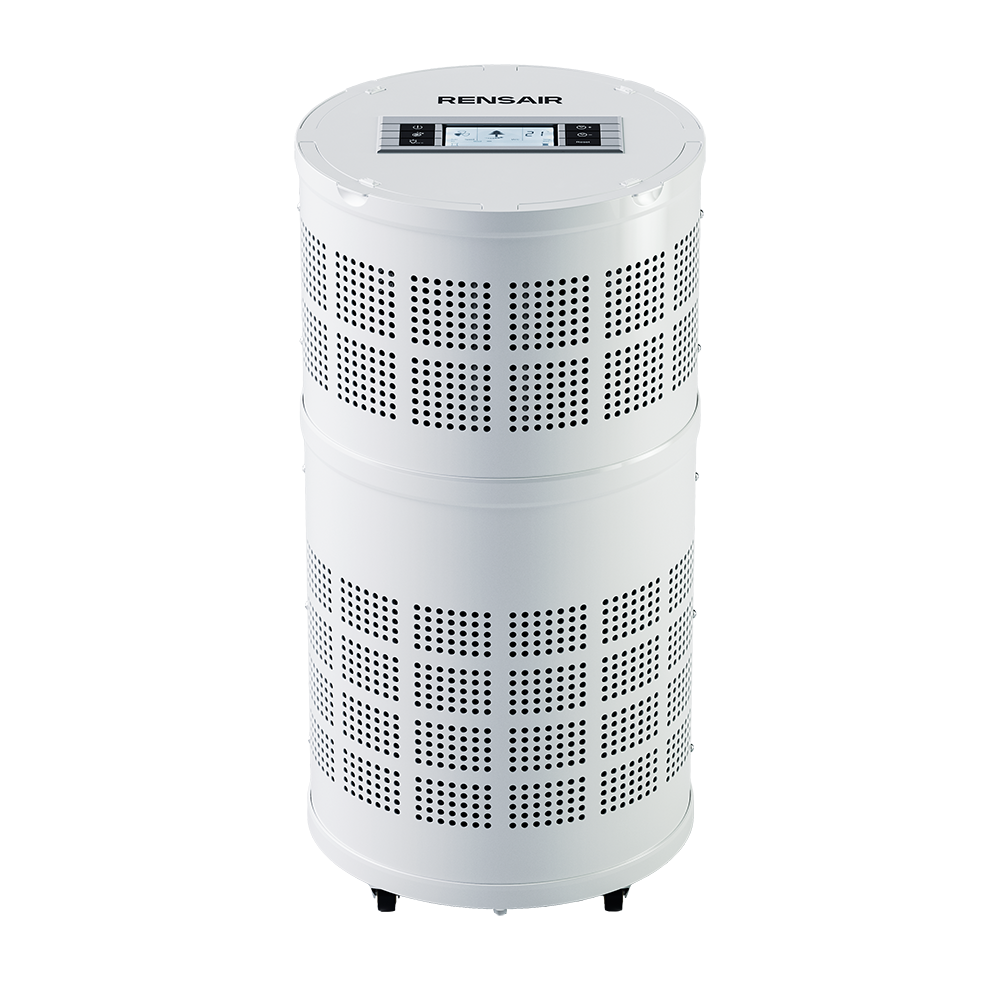 Portable, hospital-grade air purification system. Independently tested destroying 99.97% of airborne viruses.
Rensair is a highly effective, independently tested hospital-grade portable air purification system. The unique patented cylindrical design incorporates a HEPA13 filter and an internal high-powered ozone-free UVC lamp that is constantly illuminated to trap air pollutants and destroy bacteria and viruses on the filters surface. With a cleaning capacity of up to 20,000 cubic feet (560 cubic meters) per hour, Rensair provides the perfect, yet sustainable solution for continuous air cleansing with little maintenance required.
Rensair can be placed in almost any environment especially in low-ventilated areas. In particular, the device is perfect for use in a clinical environment during aerosol generating procedures and mitigates against the risk of airborne transmission of bacteria and viruses (including COVID-19) between staff and patients.
The device has been independently tested to be 99.97% effective at removing airborne pathogens with its unique patented solution.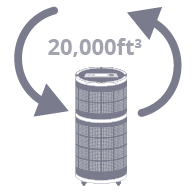 Cleans up to 20,000 cubic feet per hour
Independently tested in destroying 99.97% of airborne viruses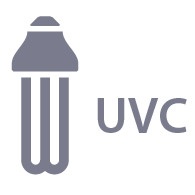 Proud to be distributors for Rensair in the UK.
Increase ambient air cycles in environments where aerosol generating procedures take place.
Reduce the risk of cross-infection and waiting times.
Procedures such as spirometry can unknowingly pass harmful bacteria and viruses into the ambient air. To manage the risk of cross-infection it typically requires treatment rooms needing to be isolated so it can ventilate before the next patient. Rensair mitigates against this risk with the continuous cleansing of ambient air, trapping and destroying 99.97% of airborne viruses (including coronavirus) and bacteria. As a result, more patients can be seen in a day with room isolation periods greatly reduced.
How it works.
1) Ambient air travels through the pre-filters at the top of the device.
2) A powerful fan passes air into the chamber below. An extremely high static air pressure is created in the cylinder as a result of the fan, maximising use of the high quality HEPA filter.
3) As particles impact the HEPA 13 filter, a barricade is created that prevents the escape of bacteria, viruses and other airborne microorganisms.
4) The UVC lamp, placed in the centre of the cylinder, continuously illuminates the entire filter surface, thereby disinfecting the surface by destroying the DNA in the bacteria, viruses etc. 
5) A large volume of clean air leaves the Rensair at 360 degrees.
Three fan settings
Rensair has three fan settings to suit various rooms sizes with the highest setting able to intake 20,000 cubic feet per hour.
Use it anywhere
The Rensair is fitted with castor wheels enabling the unit to be moved between rooms.
Safe to operate, easy to maintain
Rensair is almost self-sufficient requiring only the bare minimum where maintenance is concerned. The internal UVC lamp while illuminated actively destroys bacteria and viruses trapped on the surface of the HEPA13 filter. It's this continuous ongoing cleansing of the filters that makes it less hazardous for users to change filters.
See it action.
Watch our demonstration videos
Rensair Air Purifier Digital Brochure
Rensair Air Purifier Demonstration Video
No user guides or manuals available
Rensair Air Purifier – Norconsult Report
SAGE advice: Potential application of Air Cleaning Devices
HSE advice: Ventilation and air conditioning during the coronavirus (COVID-19) pandemic
Long‑distance airborne dispersal of SARS‑CoV‑2 in COVID‑19 wards
Rensair Air Purifier – Eurofins Report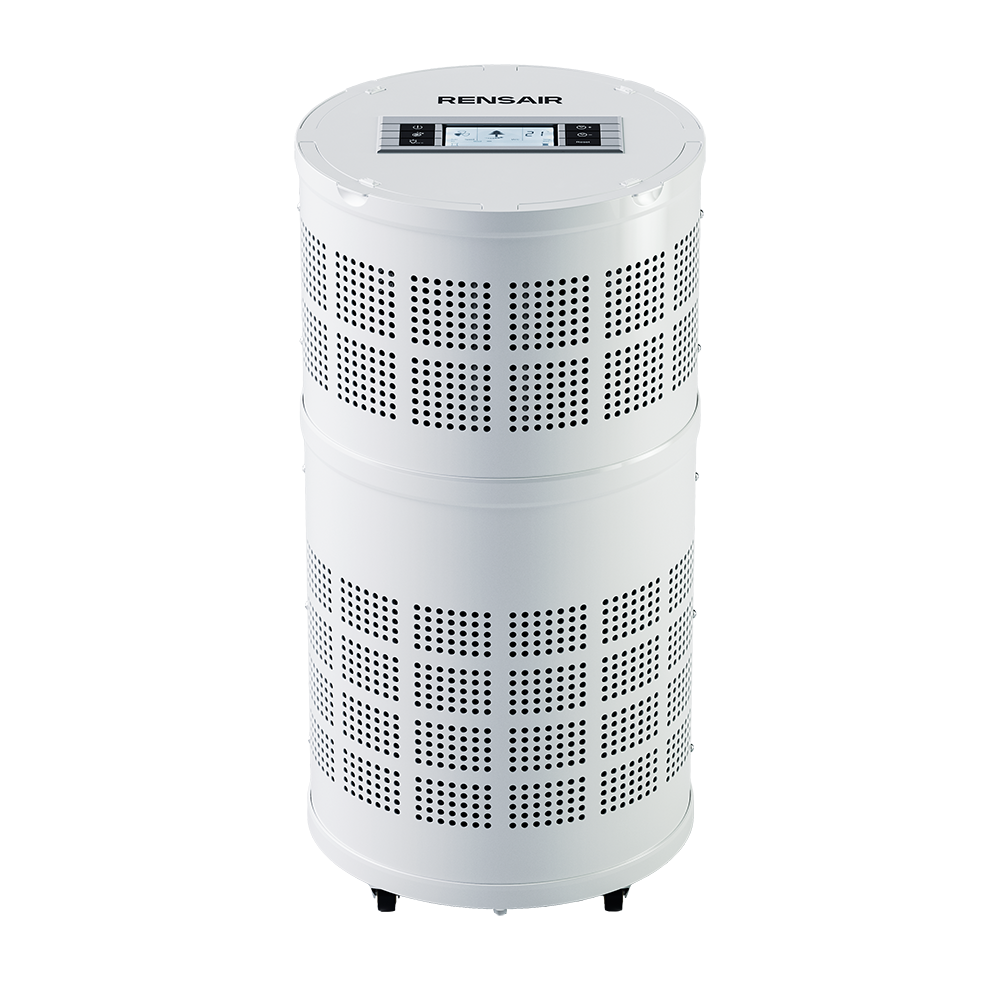 Includes: Rensair Purifier Unit, Remote Control and UK plug.
Call 01732 522444
Speak to one of our trained specialists today. We are open Monday to Friday 9am to 5pm. Excluding Bank Holidays.