MIR Spirobank Smart and Smart Oxi
Remote respiratory monitoring the smart way with optional pulse oximetry
MIR Spirobank Smart and Smart Oxi
Remote respiratory monitoring the smart way with optional pulse oximetry
The Spirobank Smart is a professional, bluetooth, app-based spirometer designed for the remote testing of respiratory patients.
The patient performs the test in the comfort and safety of their own home whilst being coached by the health professional via video link. The results are then sent to the health professional as a PDF report.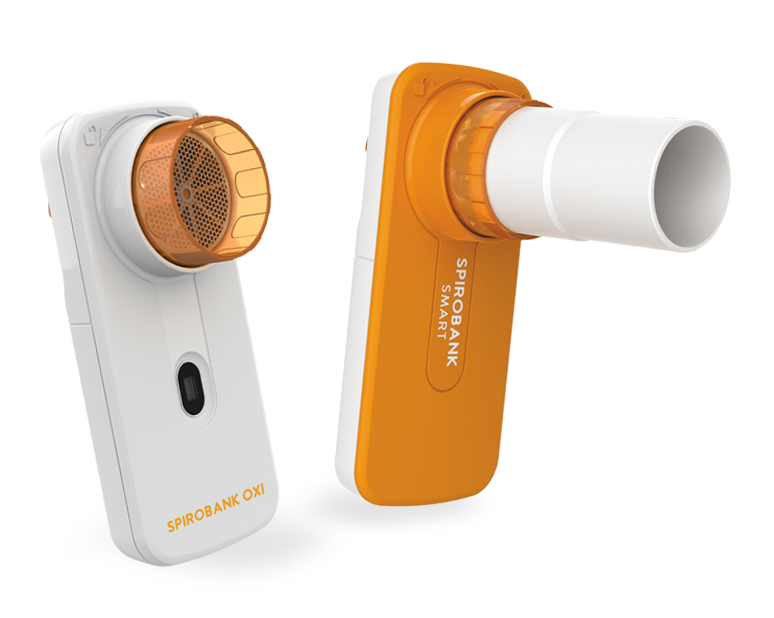 Smartphone App-based Spirometry
Pre-Calibrated Turbine Sensor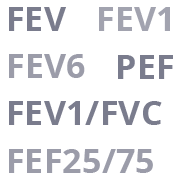 Measures 9 Key Spirometric Parameters
Pulse Oximetry (with Spirobank Smart Oxi)
Easily send reports to HCP

Available on Android devices
Proud to be exclusive distributors for MIR in the UK.
Spirometry from the comfort and the safety of the patient's home.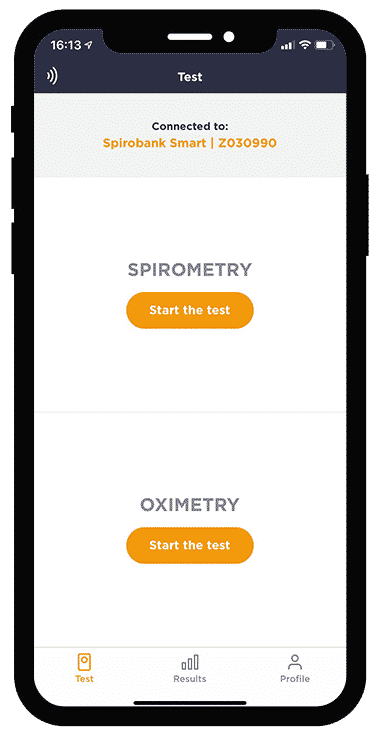 Easy to use smartphone app
The hand-held spirometer connects to a bluetooth enabled IOS or Android Smartphone running the Spirobank App. The App is free of charge and in patient orientated for ease of use.
Easy to follow incentive for test compliance
On-screen incentives displayed during the test encourages the patient to perform a good quality test.
Quality control with predicted values
Grading and acceptability criteria highlights test quality with GLI predicted values, % predicted and LLN shown on report.
On-screen curve data
Curve data available to view both on screen and on report.
PDF reports that are easily interpreted and attached to your patient record system. 
Flow/Volume and Volume/Time Graphs
Reports feature both the flow/volume and volume/time graphs with each trial illustrated in different colours for easy comparison.
Traffic light interpretation
This easy visual interpretation aid plots the patient's best trial on a 'traffic light' style line graph. With LLN and predicted points made visible for FVC, FEV1 and FEV1/FVC, it is easy to see if the patient has met the acceptability criteria for a good test.
Raw Data
Values for each parameter from each trial are collated and placed in a table at the bottom of the report – together with LLN, predicted, %predicted values, and best values.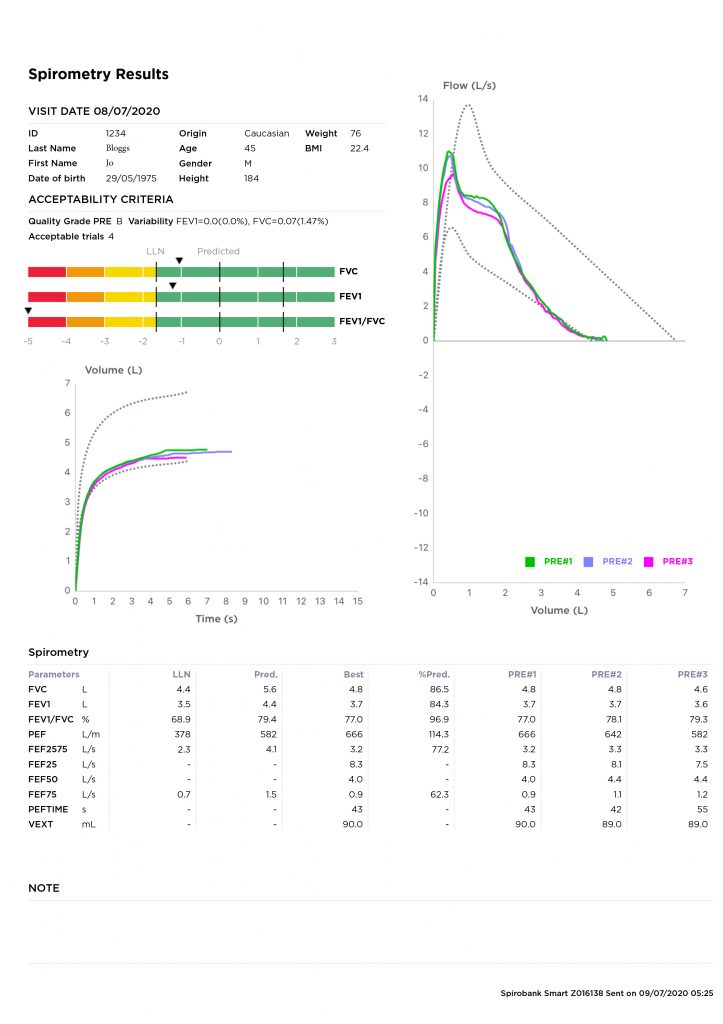 Spirobank Smart measures 9 key parameters
The measurement of these key parameters allows for accurate respiratory monitoring such as COPD check-ups to be performed at home.
Integrated pulse oximetry optional with Spirobank Smart Oxi
Spirobank Smart Oxi shares exactly the same features as the Spirobank Smart with the addition of an SpO2 sensor to facilitate oxygen saturation and BPM measurements. The Spo2 sensor is conveniently placed in-line with the patient's natural hold of the device allowing to simultaneously measure pulse oximetry while performing a spirometry test.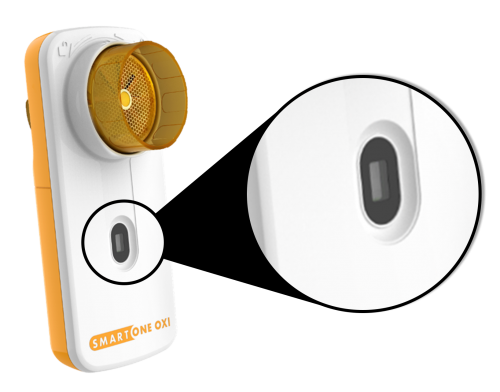 See it action.
Watch our demonstration videos
NHS GP Dr Tom Micklewright reviews the MIR Spirobank Smart Spirometer for home spirometry testing.
Disclaimer: Intermedical and MIR have not provided any financial incentive nor any sponsorship for this review. This is a completely independent evaluation of the device and the iOS app with full creative control by the author. Dr Tom Micklewright has kindly granted us permission to showcase his review of the device on our network of websites.
NHS GP INDEPENDENT REVIEW: Dr Tom Micklewright on the MIR Spirobank Smart for Home Spirometry
MIR Spirobank Smart Spirometer – For Remote Spirometry – Product Demonstration
MIR Spirobank Smart / Smart Oxi – iOS App Demonstration
MIR Spirobank II Smart Edition
MIR iSpirometry App User Guide
A home monitoring program including real-time wireless home spirometry in idiopathic pulmonary fibrosis: a pilot study on experiences and barriers
Use of a Mobile Application (patientMpower) to Capture Longitudinal Data on Air Quality and Home Spirometry in United States Based Pulmonary Fibrosis Patients
MIR Spirometers ISO26782:2009 Standard Declaration
MIR Spirobank Smart – Declaration of Conformity CE
Pilot Study to Test the Utility and Acceptability of An Electronic Health Record (patientMpower) for Patients With Lung Fibrosis
Comparison of a portable smart spirometer against two lab based desktop systems
Wearable Ultra-fine Particle and Noise Monitoring Sensors Jointly Measure Personal Co-Exposures in a Paediatric Population
Real-world usage of a mobile electronic health journal (patientMpower) for pulmonary fibrosis in a US patient support group (PF Warriors) over 12 months.
Patient-Reported and Patient-Recorded Outcomes in Interstitial Lung Diseases and Pulmonary Hypertension
Effect On Asthma Control Using A Novel Digital Self-Management System: A Physician Blinded Randomised Controlled Cross-Over Pilot Trial
Patient-Reported Monitoring of Symptoms and Spirometry via the patient Mpower Platform in Idiopathic Pulmonary Fibrosis
Includes: Spirobank Smart sensor, 2 x AA batteries, 1 x Re-usable turbine
Includes: Spirobank Smart sensor, 2 x AA batteries, 1 x Re-usable turbine
Accessories and Consumables
Reusable, Single Patient turbine for MIR SmartOne & Spirobank Smart Spirometers
Call 01732 522444
Speak to one of our trained specialists today. We are open Monday to Friday 9am to 5pm. Excluding Bank Holidays.