Professional smartphone ECG.
Professional smartphone ECG.
Made in Italy, D-heart is the world's first professional ECG device that connects with an iOS or Android device facilitating patient-self monitoring of the heart. The device is battery-powered, portable, and lightweight – designed for self-monitoring in an instant when any sign of abnormalities occurs.
The free-to-download D-heart app assists the user with the positioning of electrodes for optimum test compliance. The app also records and stores traces that can easily be shared with the healthcare professional or with a 24/7 telecardiology service for expert interpretation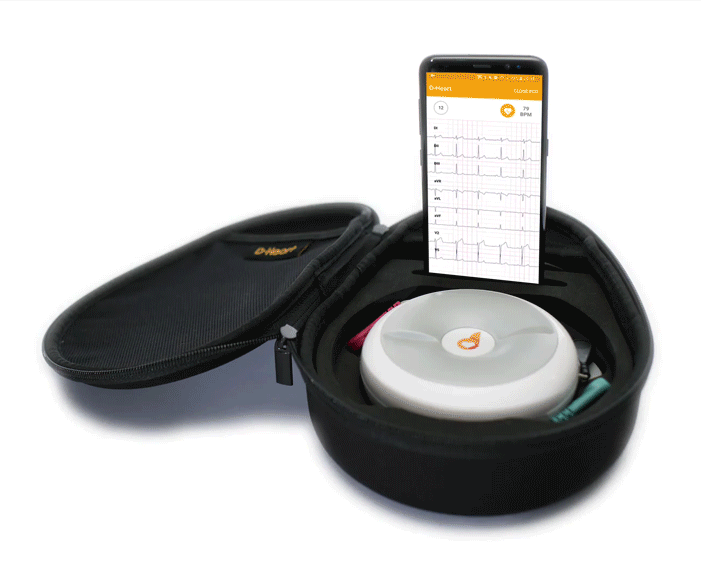 Record traces in realtime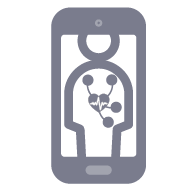 Electrode self-positioning assist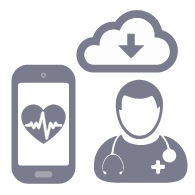 Easily send reports to HCP's

Available on Android devices
Self-monitor heart events as they happen.
D-heart provides the perfect out-of-office solution to instant heart monitoring should a patient experience intermittent or regular chest pain or an unexplained heart event.
In addition to Arrhythmias assessment, the D-heart also facilitates management of patients with cardiac conditions, diagnosing arrhythmias early in high risk patients, and management of patients with cardiac risk factors.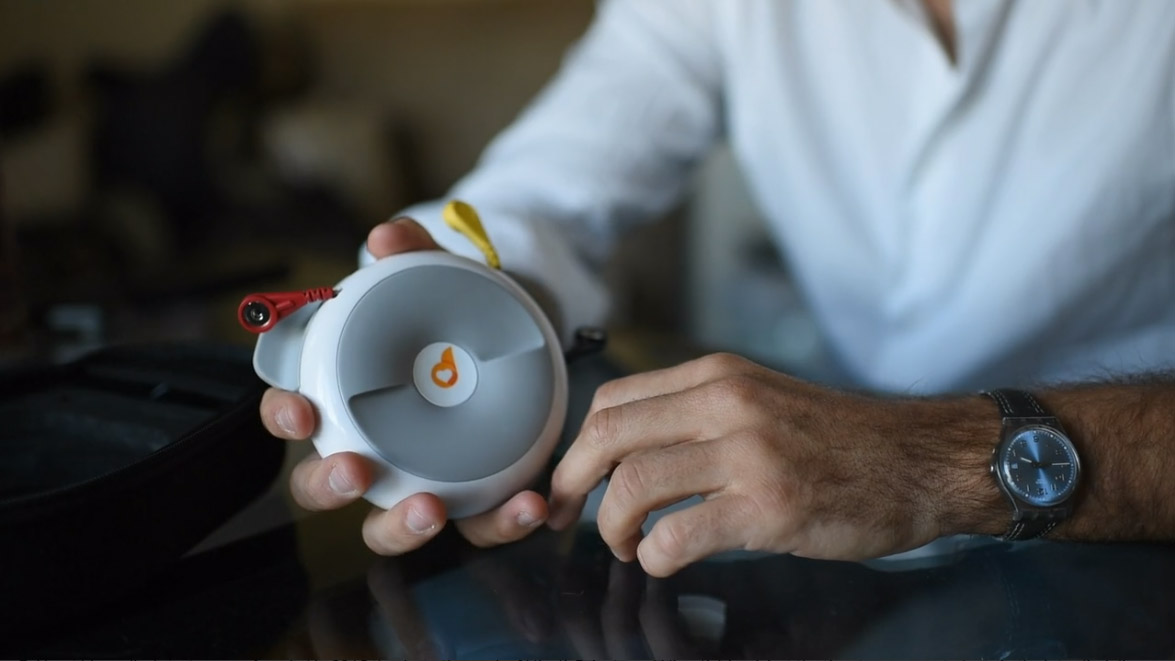 Lightweight and portable
D-heart is designed to be taken anywhere and used at any given moment – powered by a long-lasting lithium-ion rechargeable battery and incredibly lightweight at just 196 grams.
Easy to setup and use
The main device and electrodes have been ergonomically designed so it can easily be applied to the chest by the patients themselves. The patented cable exit system prevents patients from inverting the cables.
Monitor, record and share test traces with the D-heart App.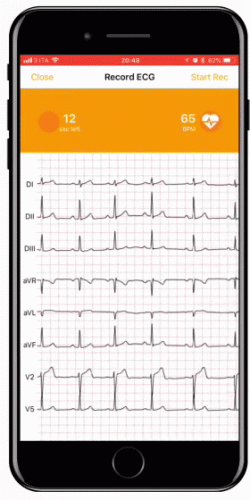 Intuitive interface
The D-heart app is designed with the user in mind with a clear and easy to use interface. Start recording in just one tap with traces displayed in real-time.
On screen assist for positioning of electrodes
Using the smart device's camera, the user can easily see on screen where to position each electrode. Smartphone camera algorithm displays the electrodes position on the patient's chest with an accuracy of 0.5 cm (approx.)
Send results for interpretation
Easily share results with a healthcare professional or a 24/7 telecardiology service.
Clinical applications for D-heart. 
Arrhythmias assessment
Evaluation of palpitations
Rule out cardiac conditions as a cause of palpitations
Management of patients with cardiac risk factors
Regularly screen patient with:
Hypertension
Atypical Chest Pain
Cardiomyopathy
Post cardiac Surgery
30-days after TIA
Sport Certificate
Diagnosing Arrhythmias early in high risk patients
Post cardiac surgery
30-days after TIA
Screening
Managing patients with cardiac conditions
Pre and Post Atrial Fibrillation procedure
Post Myocardial Infarction surveillance
Titration of newly introduced medications
Early diagnosis of Acute Heart failure re-acutisation
Early diagnosis of acute myocardial infarction
See it action.
Watch our demonstration videos
D•Heart® Smart Phone ECG Recorder – Product Demonstration
D•Heart® Smart Phone ECG Recorder
D-Heart Demonstration Video
2017 HRS/EHRA/ECAS/APHRS/SOLAECE expert consensus statement on catheter and surgical ablation of atrial fibrillation
Cardiovascular screening in low-income settings using a novel 4-lead smartphone-based electrocardiograph (D-Heart®)
Validation of a smartphone-camera based software for the identification of electrodes location on human chest
Comparative analysis of multiple leads smartphone electrocardiograph (D-Heart®) versus standard 12-leads electrocardiograph in patients with Hypertrophic Cardiomyopathy
Includes: D-Heart ECG device, Protective case with built-in wireless charger, 60 x electrodes.
Call 01732 522444
Speak to one of our trained specialists today. We are open Monday to Friday 9am to 5pm. Excluding Bank Holidays.